Mary Kate And Ashley's Backpack
When you think of backpacks you don't really think of a commodity worth thousands of dollars. But in today's world just about anything can carry exorbitant price tags that reduce your bank balance by a lot! A while back the Olsen twins, Mary Kate and Ashley had brought out alligator skin backpacks, which were touted to be the most expensive backpack due to its hefty $39,000 price tag.
But the price of these bags has now gone upto an even more unbelievable $55,000. The value addition has been provided by the world famous artist Damien Hirst who has incorporated his signature coloured and gold spots on the backpacks.
You would think that in an economy, which is not doing so well, who would have this kind of cash to splurge on backpack! But Ashley Olsen disagrees. She says that people invest in luxury items during economic crisis.
She gives the example of Hermès, the luxury brand known for its sky prices, which actually went up during the last economic crisis. In her company's case also, their $39,000 backpack quite surprisingly was the first thing that was sold off the shelf. Strange though it sounds, this logic seems to be working for them.
By bringing in Damien Hirst, they have been able to project it as a piece of art, and lets face it, there is never a limit on the price a work of art can fetch. If his works can fetch millions of dollars, why not a few thousand. This is in fact not the first time Hirst has collaborated with an apparel company.
In 2008, he had created a 40-piece collection for Levis and Mary Kate had been in the front row when this collection had been showcased. Other fashion houses like Jimmy Choo, Louis Vuitton, and Christian Dior have also collaborated with artists in the past, and this union of creative minds seems quite natural and as is apparent, very profitable too. This backpack will be one of the twelve that will available online on Just One Eye.
Via: Yahoo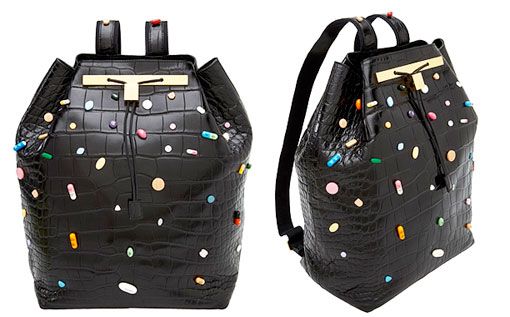 Hit "like" if you love this article.
P.S. If you liked this, don't forget to share it! Sharing is sexy! :)
Which bag is your favorite? Share it with us below: